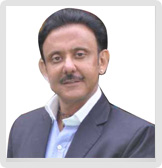 Chairman's Message
I am elated to see that vision in the field of education of our Founder Chairman Sh. K.B.Sharma has actualized in all true sense in the form of 'Saffron Public School' and new venture 'Saffron Devi College'.
Saffronions are making their presence felt in all domains. The credit goes to the continuous efforts of the staff, incessant hard work of the students and whole hearted support of the parent community.
Keep up the same spirit! Achieve more success in future. God bless you all.
Sunil B. Sharma
Chairman