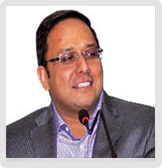 Director's Message
Dear Parents, Teachers and Student,
Our late Founder Mr. K.B. Sharma ji, guided and inspired us to start Saffron Public School in the year 1988, with objective of providing quality education to all sections of the society and our mission statement.
"We Ensure Value Based Education" meaning Amulya Jeevan … Atulaya Jeevan Sanskar
reflects the same but how do We Ensure Value Based Education?
By adopting and practicing the following 5 core values which are enshrined in our school culture:
Passin-Jasba, Ownership-apan apan,  Competency- Kushalta, Yogiyta, Flexibility- lachilapan, Communication- vartalap
And by facilitating the learning process in the young hearts I the children of our school and society.
These days so much is being said about developing the Eco-system is in our country for start- ups in business.
However, I believe that we should first develop our Education eco-system, thereby teaching our children basic values of life, our Bhartiya Sanskriti and give then a modern outlook and approach to ensure their success as future citizens of our great nation.
And surely as you can see Saffron Public School is working towards developing the said eco-system.
Our new building block is in operation now, and further a modern auditorium, computer labs, retail room, lecture halls will be started in near future and emphasis is now being given on modern classrooms, vocational training, e-library, music, dance, sports and our existing infrastructure is being upgraded as per the needs like RO system, New Buses, CCTVs etc.
And also best of teachers are being employed to nurture and encourage talent her and all teaching and non-teaching staff are given regular training and continuing professional education in form of seminars, workshops, etc. to keep them abreast of modern teaching methodology and approach, so that maximum benefits accrues to our students.
Further, the management of Saffron Public School is also promoting a new institution, namely, Saffron Devi College, which shall provide further education in skills  and technical training, higher and professional courses in the years to come and has already been appointed as Accredited Vocational institute by National Institute of Open Schooling and is also seeking affiliation with other Government Institution and hence, enhancing total education framework for our students in particular and society at large.
I would like to add here that the role of the Parents in eco-system is like that of heart in our bodies without which life will not exit.
As a Parent myself, I understand your concern for your wards, as we all want them to do well in life be successful and so at the school,
 We are also sensitive to any issues you may be having regarding your ward and do best to solve the same to benefit your ward.
We understand each child is different and special and after certain age we have to become facilitators rather Parents I the old sense.
Surely, the success of our students and school has only happened because of active participation and wholehearted support of our Parents and due to joint efforts all Saffronians, your school was placed 17th amongst the top 20 schools of Faridabad by survey done by TOI in 2016.
Bus as you all know this is just a small step I the direction to making Saffron public School to be one of the top school's in the country
Thank you & God Bless
Atul B. Sharma